As more and more people enjoy high-end mobile games that have become comparable to PC and console games, optimized smartphone performance for handling mobile games has become increasingly important. In line with this trend, the Galaxy S23 Ultra is meeting the needs of avid mobile gamers, offering powerful performance, faster reaction speeds, immersive graphics and a long-lasting battery. One UI 5.1, the latest Galaxy software, provides a more personalized experience and convenient usability than before, all on the Galaxy S23 Ultra.

To experience the powerful performance, innovative features and revamped gaming capabilities of the Galaxy series, Samsung Newsroom tried out the Galaxy S23 Ultra, providing more colorful and vivid mobile experiences for users.

Level Up With Powerful Performance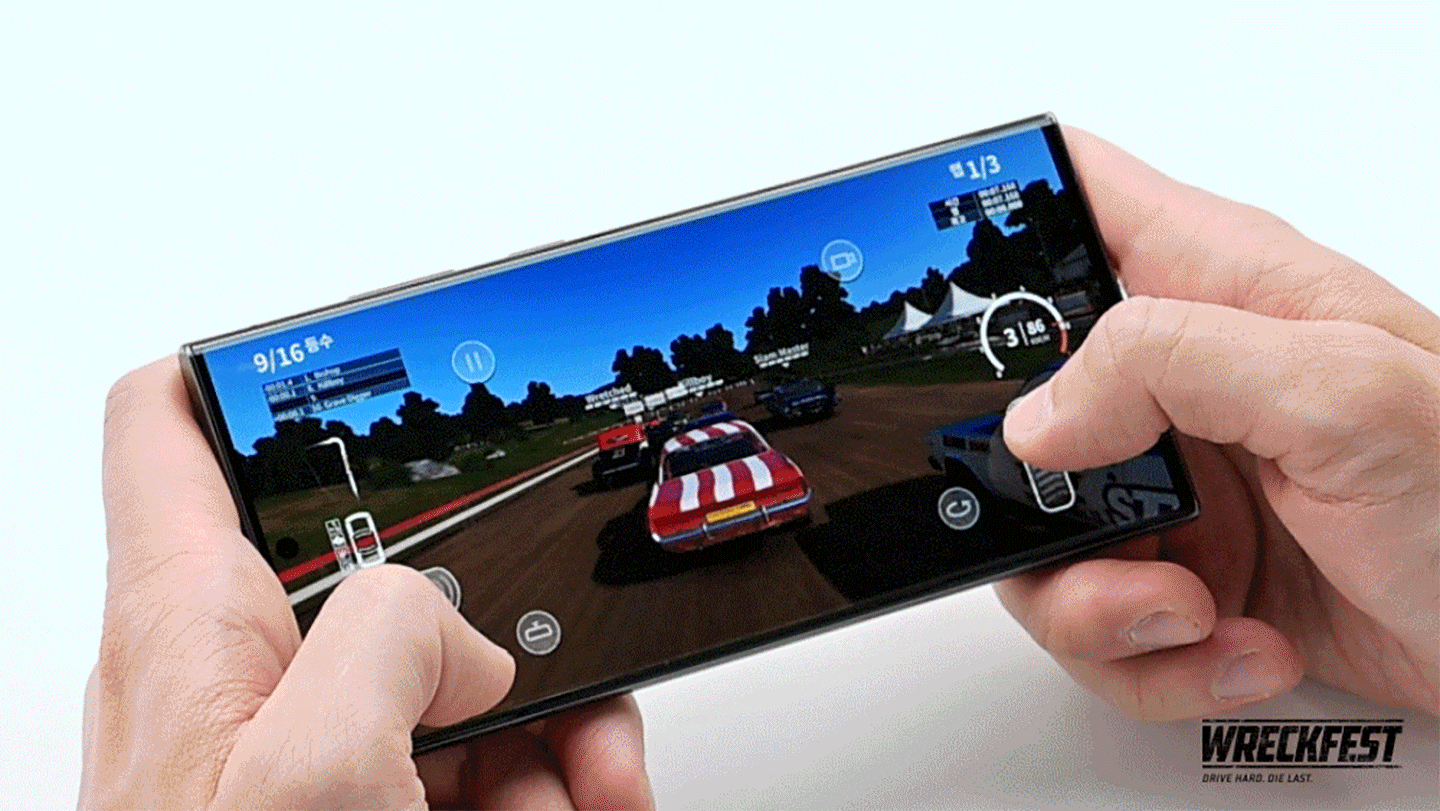 Enjoy thrilling mobile games, such as the action-packed racing game Wreckfest,1 on the Galaxy S23 Ultra. The Galaxy S23 Ultra is equipped with Snapdragon® 8 Gen 2 Mobile Platform for Galaxy, enabling fast and smooth gameplay.

Mobile gaming requires high-performing hardware and software to provide the best gaming experience in the palm of your hands. The Galaxy S23 Ultra has Snapdragon® 8 Gen 2 Mobile Platform for Galaxy, providing a vastly different mobile gaming experience. In addition, the upgraded GPU is 41% faster than the previous model, and the neural network processing unit (NPU) required for artificial intelligence (AI) deep learning has improved by 40%.2 In short, gamers can be immersed in the game action thanks to vivid graphics and upgraded processing power.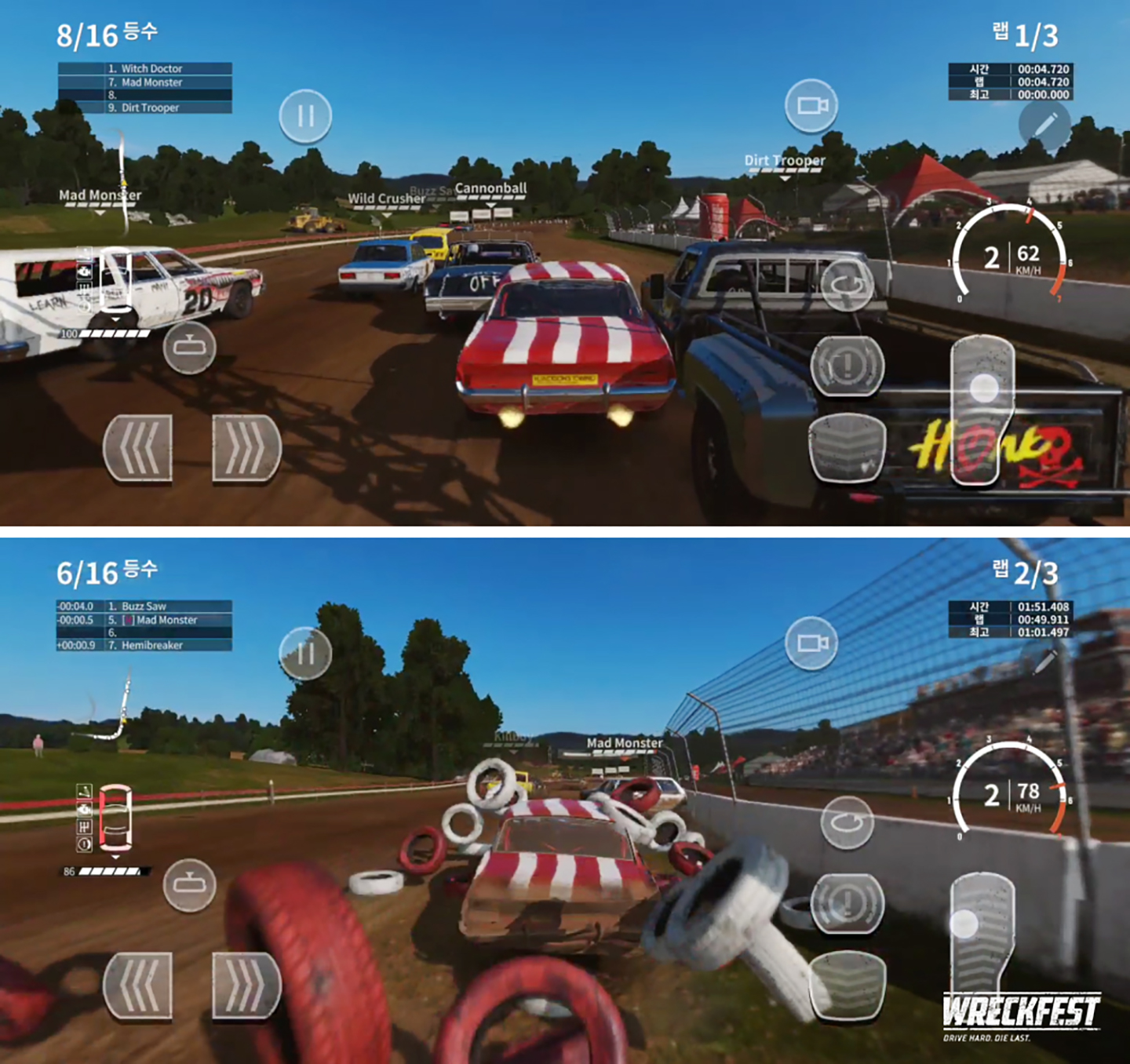 Graphics from the mobile game Wreckfest captured from the Galaxy S23 Ultra. The details of the vehicle, object movement and other action-filled gameplay seem realistic and vivid.

A powerful graphics rendering technology called Ray tracing has also been applied to the Galaxy S23 Ultra's GPU. The technology enhances immersion and creates realistic in-game play just like that of a PC game by displaying lighting, light reflection and shadows in the game more realistically. Thanks to this, you can experience more realistic graphics and in-game action on mobile, just as you can on a PC. Moreover, Samsung Electronics plans to continue collaborating with various global game distributors and game engine companies on GPU-based technology.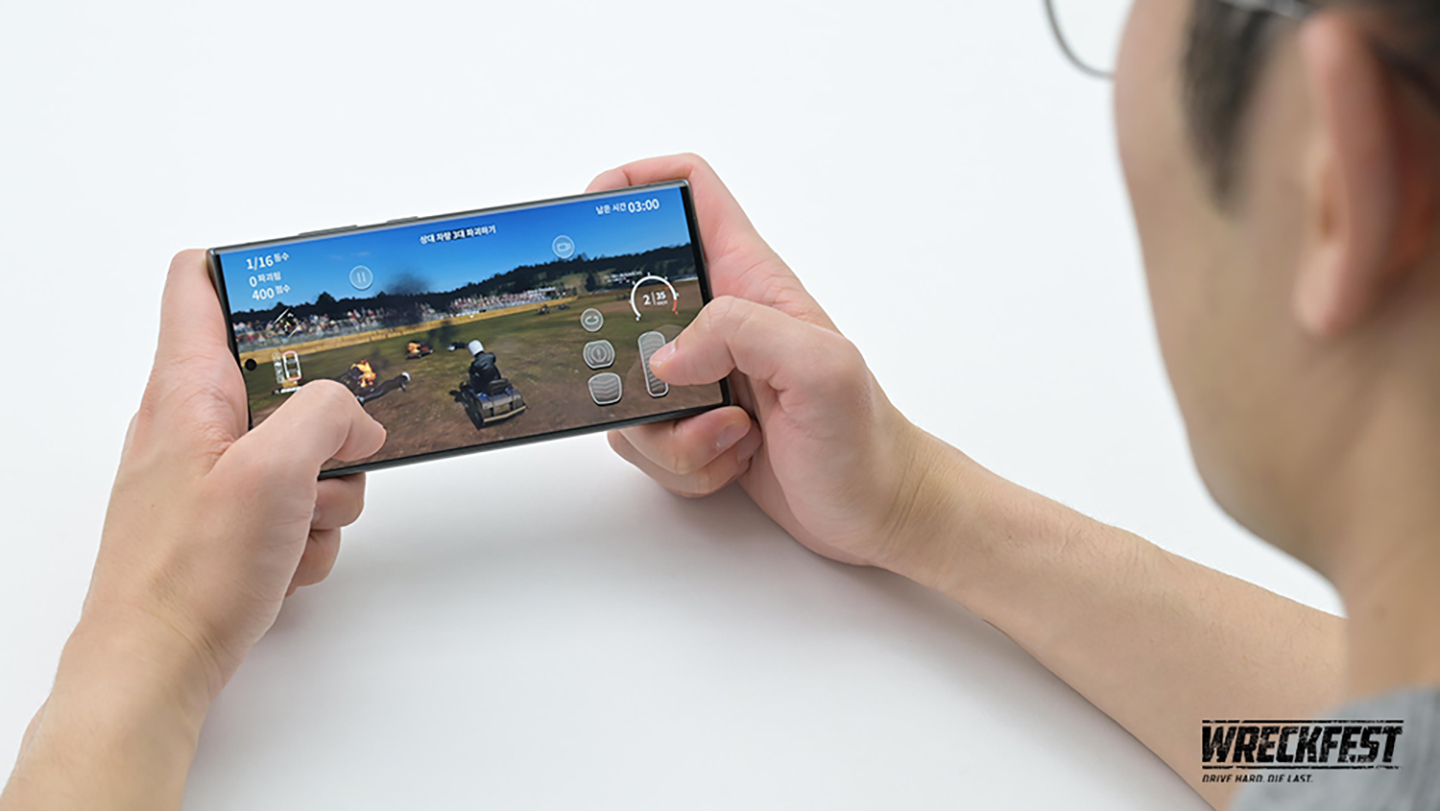 Playing games with the Galaxy S23 Ultra is more enjoyable and immersive. The graphics processing unit (GPU), which has been improved by 41% compared to the previous model, displays realistic, high-definition graphics and increases the level of immersion in the game.

While playing the action racing mobile game Wreckfest, feel as if you're actually driving off-road thanks to vivid visuals and breathtaking graphics. When colliding with obstacles, sand and dust realistically scatter and debris flies around, adding to the excitement and immersion of the game. Similarly, Samsung announced at Galaxy Unpacked 2023 that it would continue GPU-based technology collaboration with various global game distributors and game engine companies, stirring up excitement and anticipation among many game users.
With the upgraded Vision Booster, the Galaxy S23 Ultra automatically adjusts the screen brightness based on lighting conditions of the surrounding environment.

Nothing has as much impact on your gaming experience as the screen. The Galaxy S23 Ultra display comes with an upgraded Vision booster that automatically adjusts the brightness of the display gradually based on the user's lighting environment. Even in strong sunlight, users can see their display clearly and brightly.

Multitask Seamlessly While Playing Games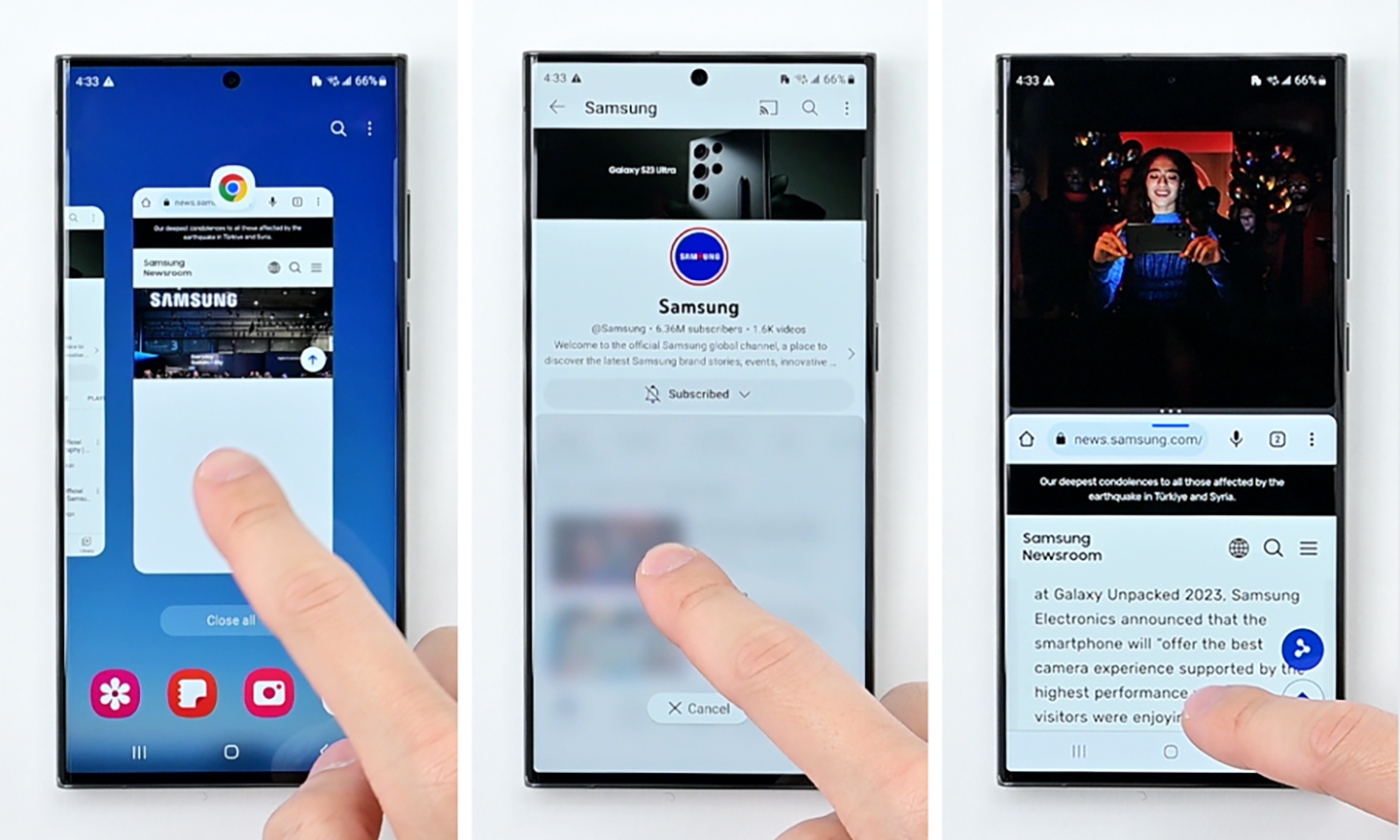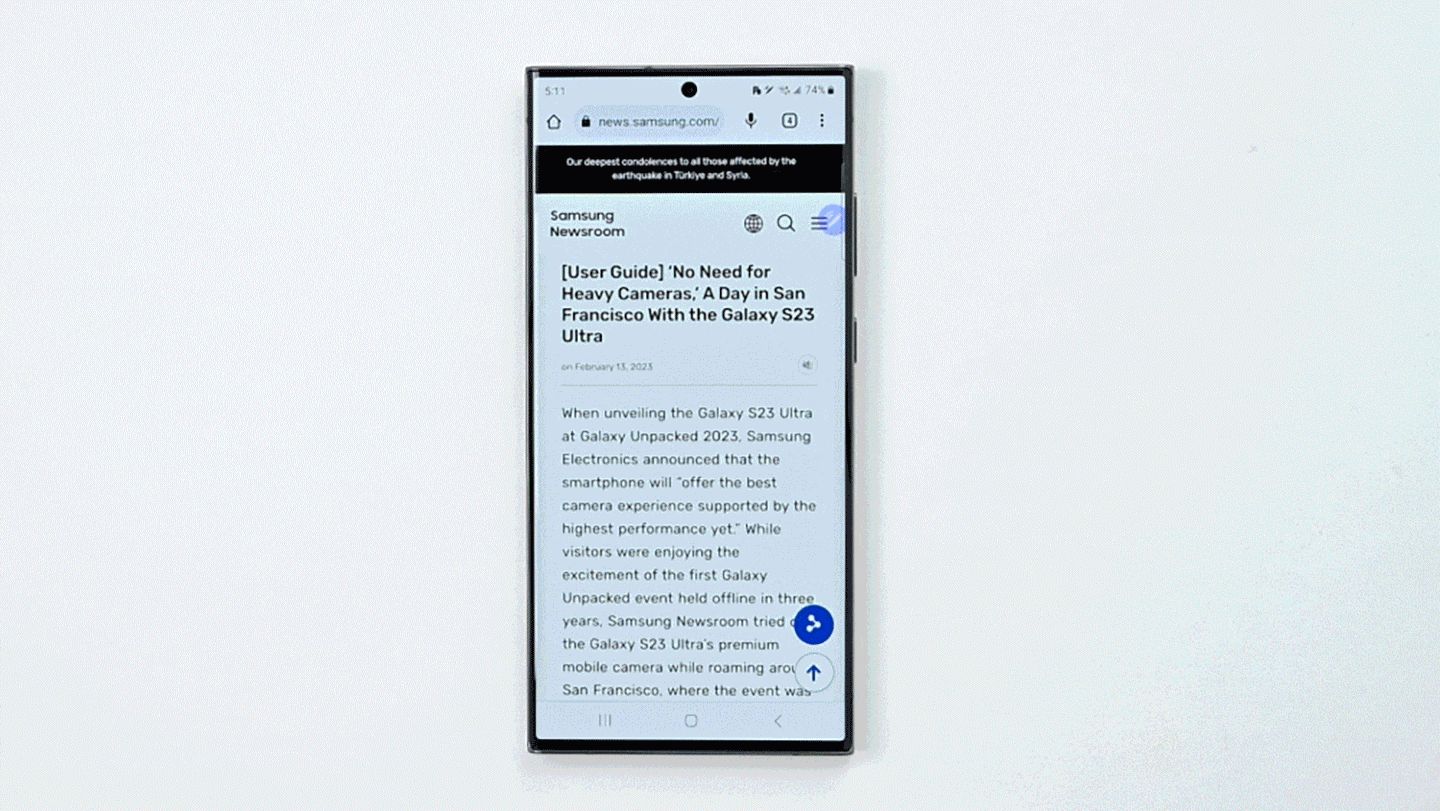 With the Galaxy S23 Ultra, you can experience the enhanced multitasking functionality. Through the Multi-window function, you can run two apps simultaneously or open a pop-up window as you can on a laptop to work quickly and efficiently.

The CPU performance of the Galaxy S23 series has also been improved by about 30% compared to the previous model, resulting in faster processing speeds. In fact, even when multiple apps are active, it showed smooth and fast processing speed without interruption.

These powerful chipsets increase efficiency, allowing multitasking capabilities to be utilized faster and more efficiently. The Galaxy S23 series offers smooth and fast response speeds even while performing CPU-heavy functions, such as video calling while playing a game or watching a movie while checking social media. In addition, the usability of the Multi-window functionality has been enhanced, and frequently used apps are displayed under Recent apps, making it more convenient to quickly launch and switch between apps.

Carry Less With Enhanced Battery Capacity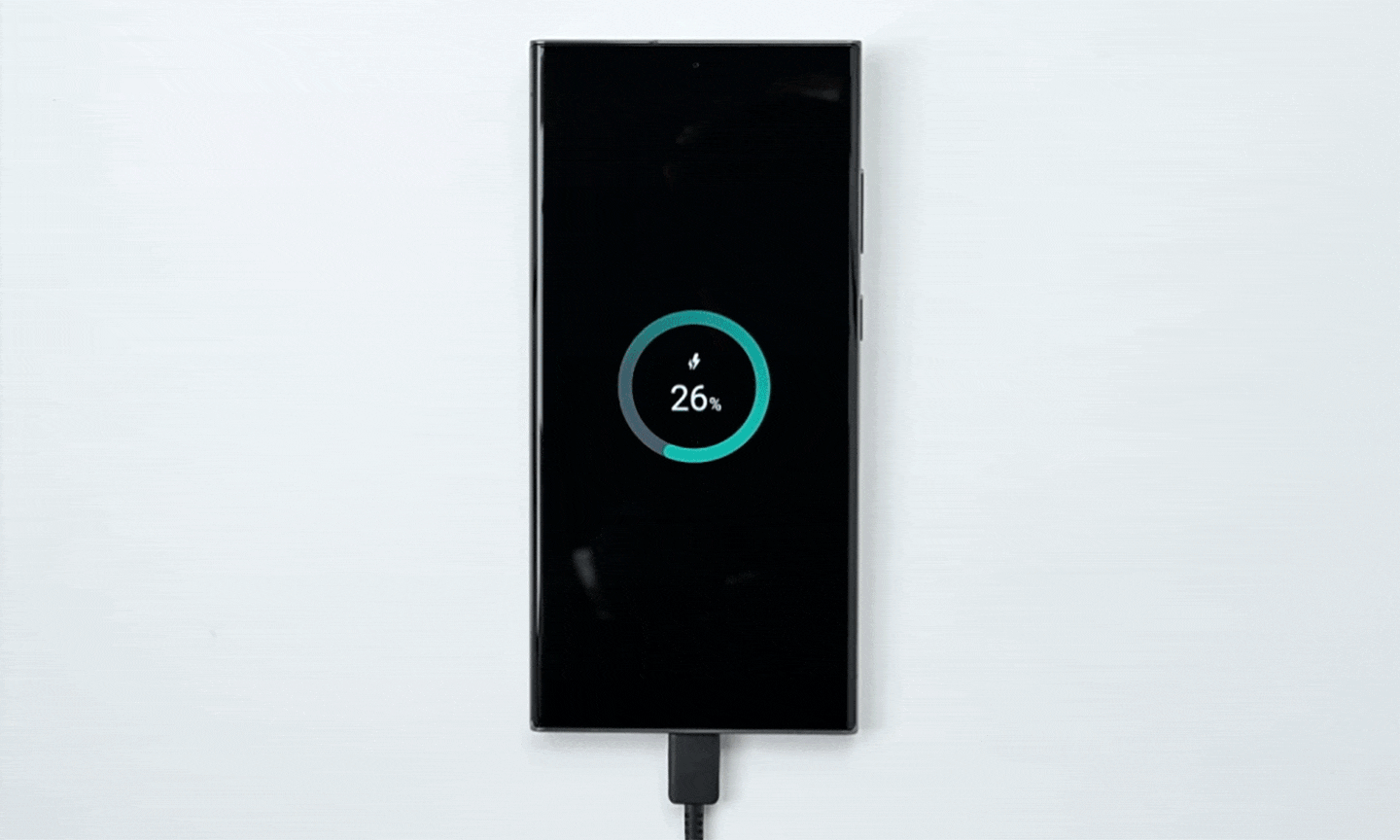 Spend less time charging and more time using with the Galaxy S23 Ultra.

The Galaxy S23 series also comes with greatly improved battery life. The battery capacity of the Galaxy S23 and Galaxy S23+ are 3,900mAh and 4,700mAh respectively, increased by 200mAh from the previous generation. The Galaxy S23 Ultra is powered by a 5000mAh battery and can be charged up to 65% in 30 minutes with a 45W power adapter.3 In other words, users can spend less time worrying about their device's battery life and more time enjoying their favorite apps and activities.

Fulfill Your Own, Unique Experiences With One UI 5.1 Update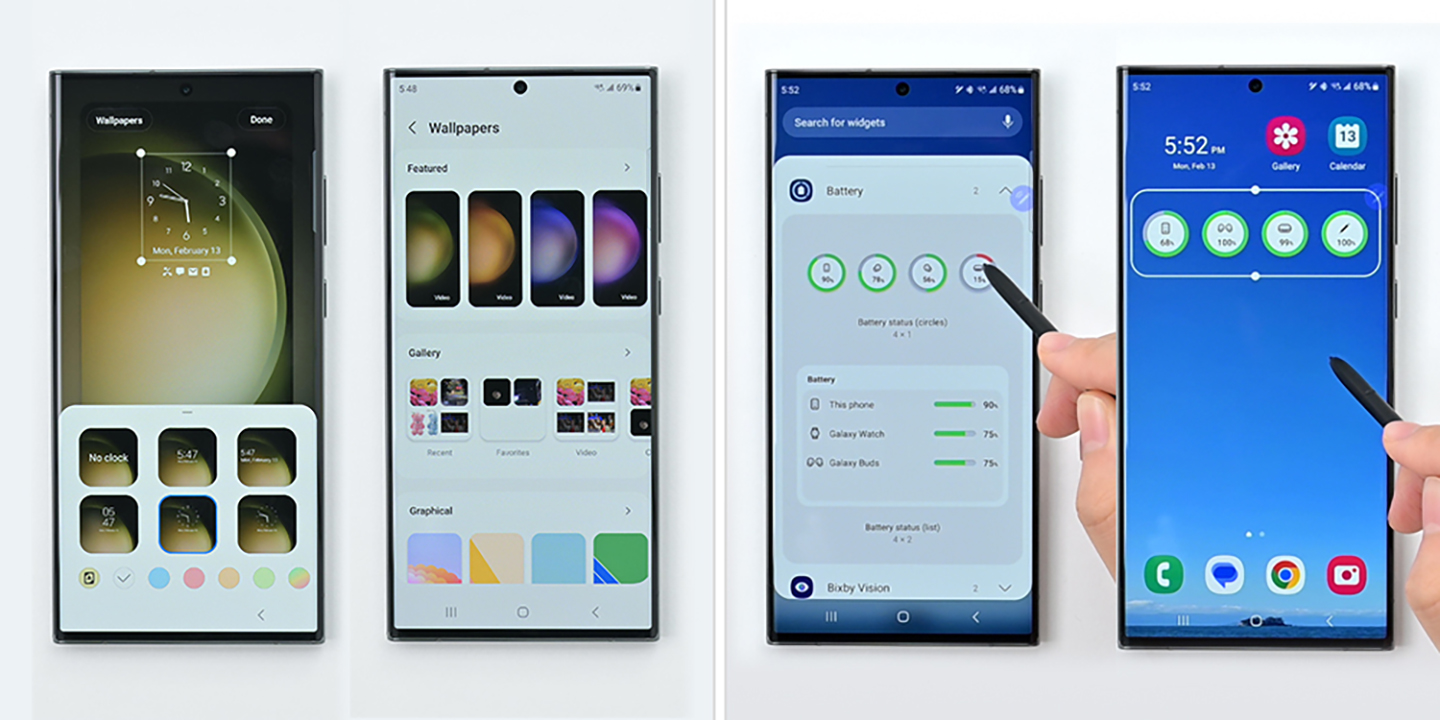 (Left) Customization of the lock screen with various clock widgets and background designs (Right) New battery widget customization screen

One UI 5.1, which has been updated for more Galaxy devices worldwide, helps you customize your smartphone to better suit your taste. Users can easily select part of a recorded video and set it as a their phone's lock screen, taking wallpaper customization to the next level. Various widget functions have also been added, allowing users to toggle settings and apps from the convenience of their home screen. In addition, users can check the battery level of various Galaxy devices, such as Galaxy Watches and Galaxy Buds, at a glance in the new battery widget, and you can also get Spotify music and playlist recommendations that match your activities in the Smart suggestions widget.4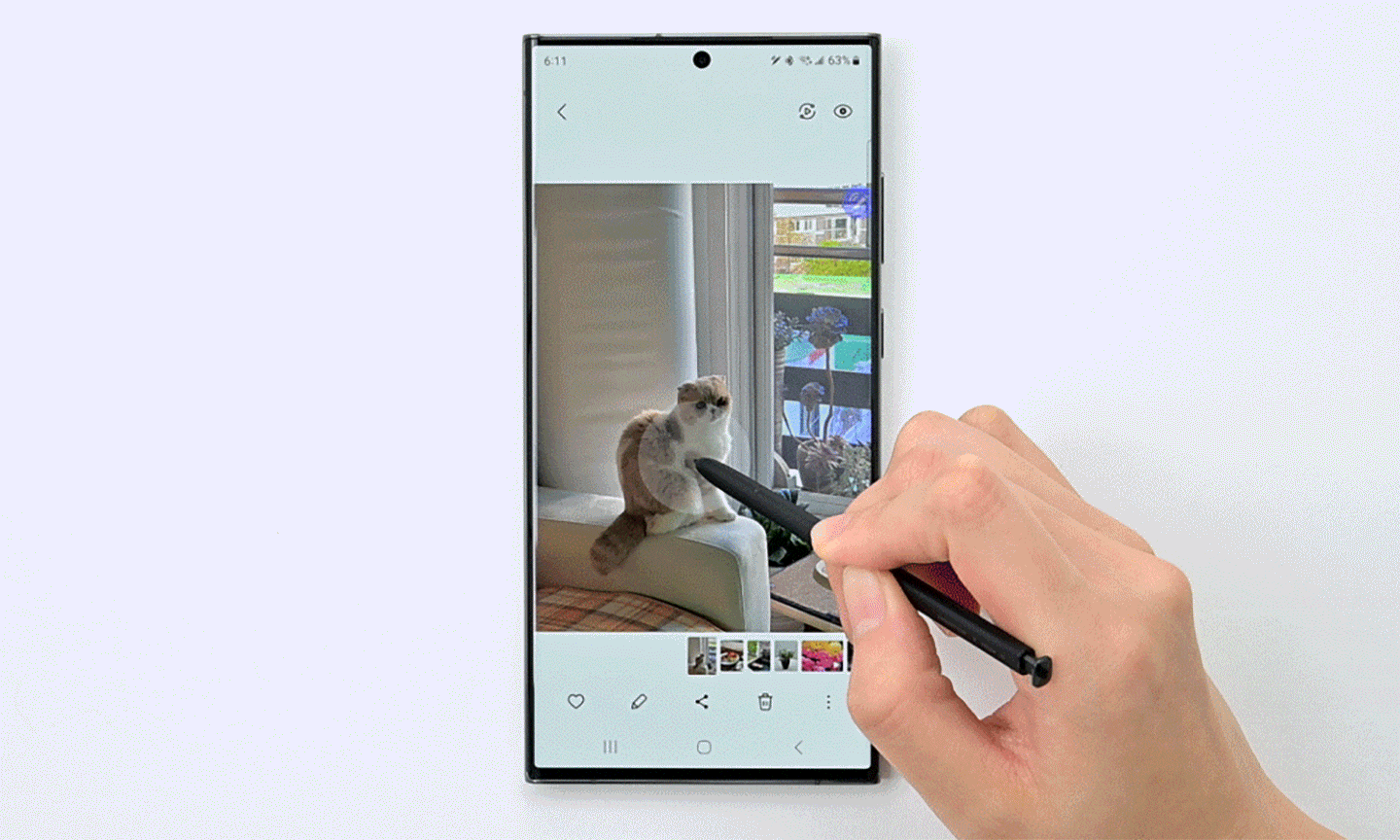 On the Galaxy S23 Ultra, you can easily remove the background of an image by simply touching the photo, copying it or saving it for later use. It accurately detects the smallest details of photographed subjects, such as the fine hairs of your pets, and removes the background seamlessly.

Make virtual stickers from your photos easily by isolating the subject and removing the background of an image with a single touch. When saving a photo, users can view more detailed photo information such as where and when the photo was taken, storage location and camera settings with just a swipe. In addition, through the Modes and Routines function, you can set wallpapers, monitor app usage, notifications and more for certain situations such as while sleeping, driving and working.

More Ways To Use S Pen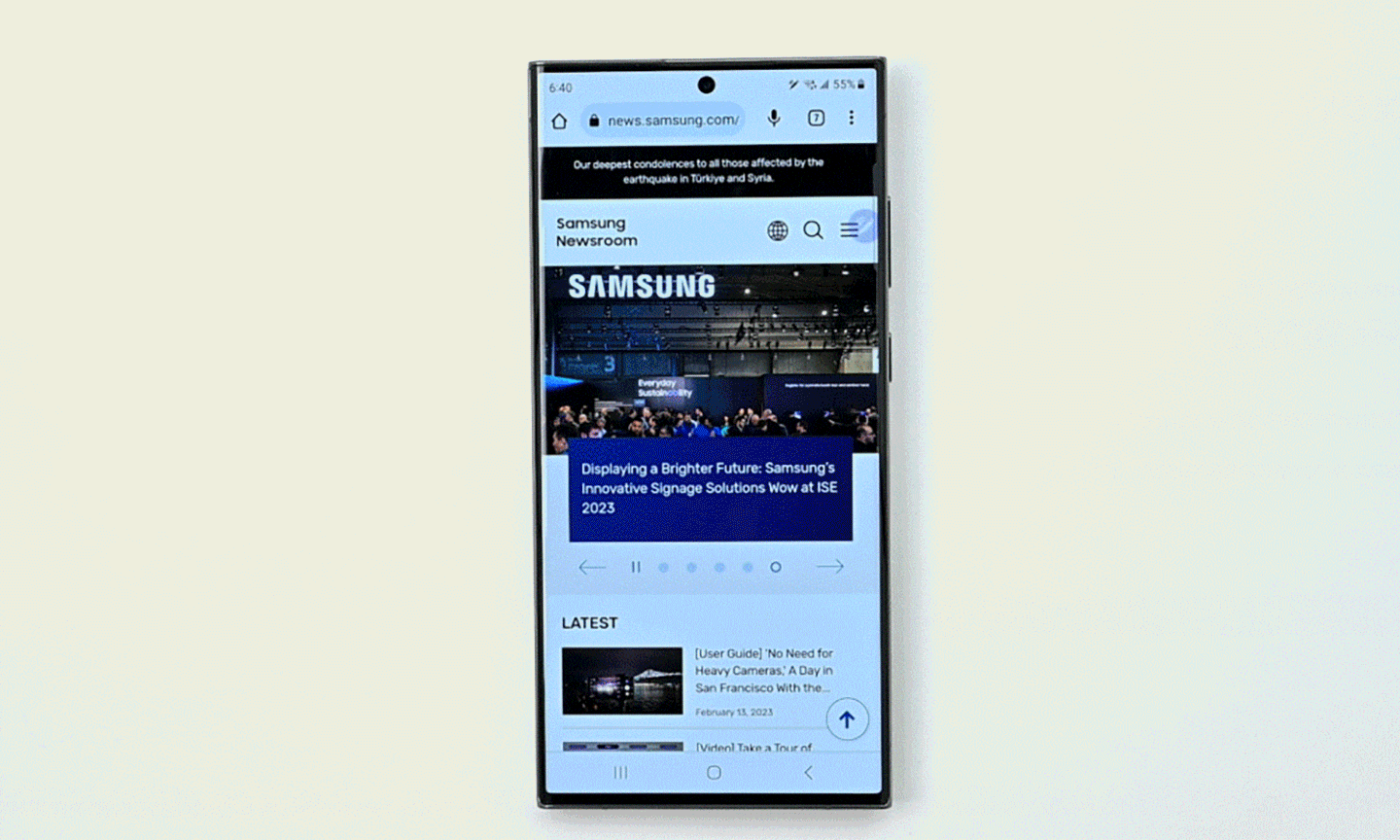 With the Galaxy S23 Ultra, you can now quickly and easily search without using the keypad. When you search for content by writing with the S Pen, the user's handwriting is recognized and automatically converted into type.

In addition, with the Galaxy S23 Ultra, creating and spreading your thoughts and ideas has never been easier thanks to the improved S Pen. The new One UI 5.1 easily extracts text for storing for later use and allows you to utilize what you want from an image easily. One UI 5.1 also converts handwritten text into type when inputting information in the search bar on sites such as Google and YouTube, enabling easy search. One UI 5.1 will be updated sequentially for other devices to continue offering the best mobile experience for Galaxy users.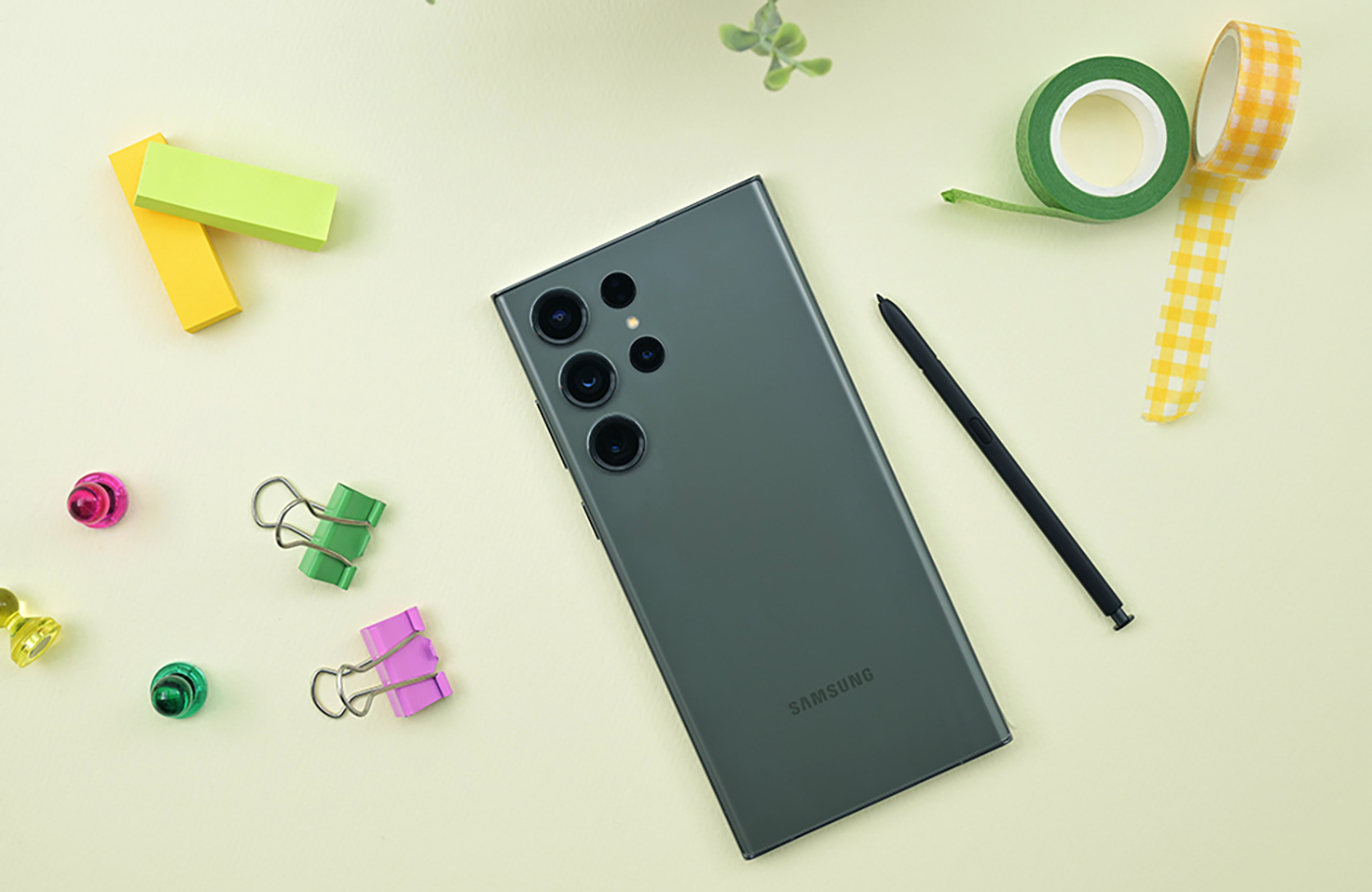 The Galaxy S23 Ultra offers powerful functionality, all in the palm of your hands.

The Galaxy S23 Ultra allows users to be fully immersed in daily activities while making the device experience more convenient and easier-to-use. For those looking for enhanced usability yet a high-performing mobile device, the Galaxy S23 Ultra makes the perfect companion for everyday life.